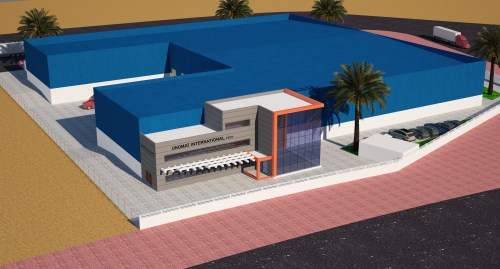 Pravarthi is awarded for construction of warehouse & office block at JAFZA
M/s. UNOMAT INTERNATIONAL FZCO awards Pravarthi the prestigious design & build project on Plot No. S-51208 Jebel Ali Free Zone for the Construction of Warehouse & Office Building Facility.
This is the one of the biggest project of this type in this area at this period of time, which comprises the total, built up area of 7363 Sq. m, and will be completed in 8 months on a fast track basis.
Project Scope: The project comprises the construction of Warehouse & Office on Plot No. S-51208, in Jebel Ali Free Zone, Dubai. The project features the facilities such as Warehouse, Ground + Mezzanine office block, workers' facilities, rectangular office entrance, substation / LV room, cool room, pump room, guard rooms 1 & 2, battery charging room, covered & open car parking, paving of interlock & kerbstones, compound wall, chain link fence, gates, soft landscaping works, and includes Civil, Architectural, Pre-engineered structural steel, Sandwich Panel roofing & wall cladding, mechanical, electrical, FF/FA, Water supply & Drainage, and associated external works.