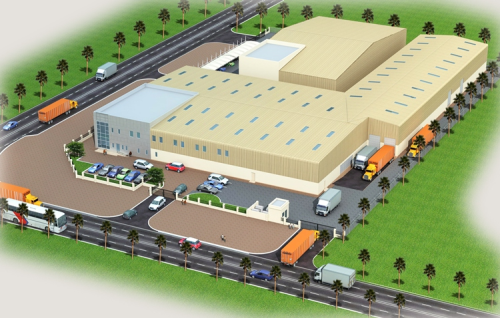 Proposed Construction of Office and Factory on Plot No.S31201 in Jafza for CPL Aromas FZE
Dubai, UAE (December 23, 2012): CPL Aromas FZE awards Pravarthi Building Contracting LLC a prestigious turnkey in Jebel Ali Free Zone for the Construction of Office and Factory on Plot No.S31201 in Jafza. The project comprises the facilities such as Warehouse / Factory, Ground + Mezzanine office block, guard & pump rooms and miscellaneous works featuring Civil, Structural, Architectural, and MEP works. The project will be completed in 9 months duration on a fast track basis.
Pravarthi Building Contracting is the regional design & build contractor for industrial & commercial facilities. Pravarthi's diversified type of experience has strengthened it to successfully complete a large number of innovative projects for several industries such as chemical plants, air conditioned warehouses, pharma storages, food processing facilities, residential buildings, infrastructures, retailing & and power industry. Whether a standard box building or complex custom steel building, Pravarthi exceeds Client's needs with professional, experienced engineering staff, state-of-the-art manufacturing processes, competitive pricing and extremely sensitive lead-times.
For more information please visit
www.pravarthibuildings.com
.