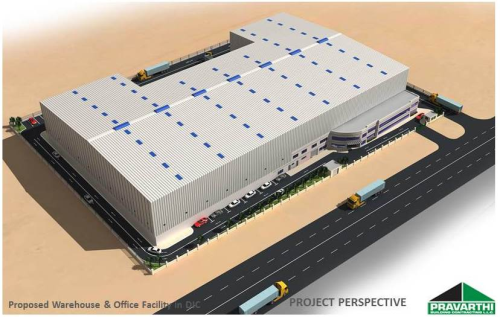 Pravarthi Building Contracting is awarded Warehouse & Office project in Dubai Industrial City
Dubai, UAE (Wednesday, July 18, 2012): Alitsa Plastic Masterbatch awards Pravarthi Building Contracting LLC a prestigious project in Dubai Industrial City for the Construction of Warehouse & Office facility. The project shall be completed in 10 months duration. This project features Pre Engineered Structural steel building, civil, architectural & MEP works.
Pravarthi Building Contracting is the regional design & build contractor for industrial & commercial facilities. Pravarthi's diversified type of experience has strengthened it to successfully complete a large number of innovative projects for several industries such as chemical plants, air conditioned warehouses, pharma storages, food processing facilities, residential buildings, infrastructures, retailing & and power industry. Whether a standard box building or complex custom steel building, Pravarthi exceeds Client's needs with professional, experienced engineering staff, state-of-the-art manufacturing processes, competitive pricing and extremely sensitive lead-times.
Pravarthi Building Contracting are premier construction companies in Dubai UAE. We have rich expertise in industrial and commercial properties. Our commitment to quality and timeline has made us one of the distinguished building construction companies in UAE.
For more information please visit
www.pravarthibuildings.com